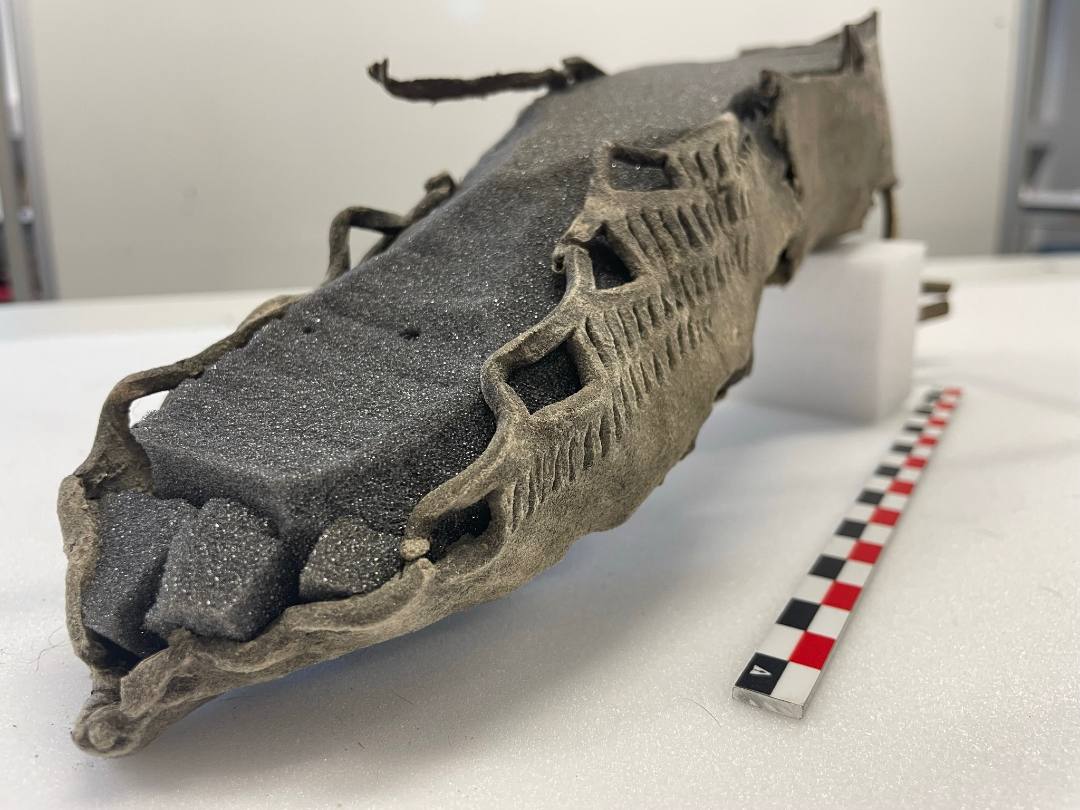 Image by Secrets Of The Ice and featured with permission 
It was most likely snowing and somebody in the Iron Age dropped their leather sandal while walking the forgotten Horse Ice Patch in today's Oppland, Norway. Hopefully, they packed extra hiking boots, or at least an early form of them.
For 1,700 years, the unceremonious moment was frozen in time. That was until the August of 2019, a particularly sunny time with a heat that melted the mountainous snow. A hiker was in the area when he spotted the shoe, newly emerged from the snow. He reached out to archaeologists at Secrets Of The Ice, a group that studies glaciers and ice in the country.
The team rushed to the scene, where they dug out not only the ancient footwear but also textiles, shafts, and frozen horse manure. It's a good thing the experts didn't hesitate, as a winter storm rolled in the very next day and coated everything in snow. It would potentially be several years before the ice melts like this again, the project's lead Espen Finstad tells Live Science.
The archaeologists brought the sandal back and radiocarbon-dated it to 300 AD. It was the oldest object of the lot it was excavated with.
They deduced that the owner of the footwear had tossed the sandal out as it was worn out and they no longer had use for it.
Considering the location, this sandal was an odd find. With its cutouts, it would have done little to protect the wearer's feet on the snowy slopes.
Its cutouts and open upper with laces are characteristic of the Roman carbatina, a style trendy in Europe at the time. In fact, Finstad says the sandal was "inspired by" that look, suggesting that people looked at fashion ideals across cultures too.
The discovery of this foreign style, recently shared by the group on Twitter, also hints that this mountainous trail had been well-used by travelers far and wide.
[via Artnet News, Live Science, Ars Technica, cover image by Secrets Of The Ice and featured with permission]