[Click here to view the video in this article]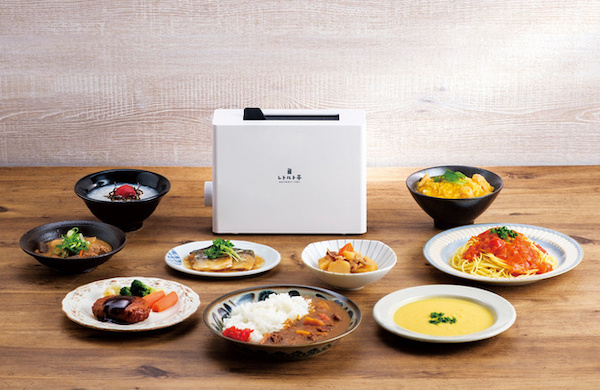 Image via Apix Intl
Microwave-friendly meals have somewhat of a bad rep, but they don't seem all that lazy when prepared in this cooker that resembles a pop-up toaster.
A Japanese design firm called Apix Intl has conceptualized what it touts to be a "cooking revolution" that's "super easy" to use, and it's perfect for those whose loyalties secretly lie with the microwave. Called the 'Retort-Tei', the gadget is made especially for ready-to-heat meal pouches known as "retort pouches" in Japan.
According to SoraNews24, you can often find curries, meats, sauces, and soups in these packs, and they're packaged this way to either be prepared in boiling water, with the bag; or in the microwave, where contents will have to be emptied out onto a plate or bowl with plastic wrap.
As simple as those steps seem, the Retort-Tei streamlines the process further. It's got a slot perfectly sized for food pouches, and the user simply has to place the bag into it, turn a dial to select the desired time, and wait for the bell to tell them the food is nice and, well, toasty.
The bag is sandwiched between heating panels that don't get as hot as, say, an oven, so it warms up ready meals just enough.
With this compact appliance, there's no need for boiling water, plastic wrap, or even to wash the dishes. Plus, not only does it save time, but it also cuts down on water and single-use plastic waste.
The project is currently in a crowdfunding phase, so it's not ready for market yet. Being great fans of convenience, though, the Japanese public has backed the idea up many times over—while the firm's goal was just ¥500,000 (US$4,552), it has since amassed ¥22 million (US$202,000) from interested buyers.
Could this be the coolest thing since toasted bread?
[via SoraNews24, video and images via Apix Intl]