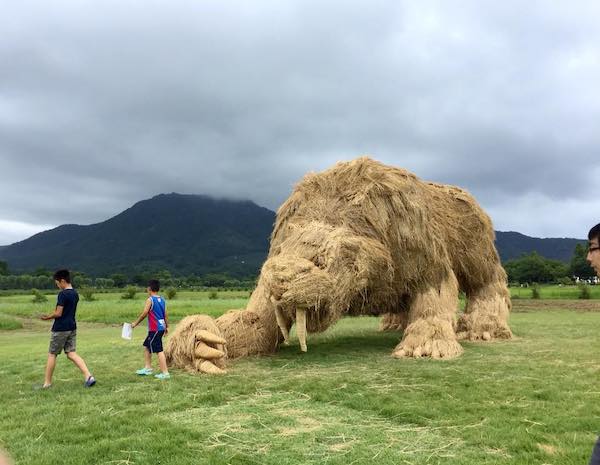 Image via Wara Art Festival
Historically, farmers in Japan use leftover rice straw, called "wara" in Japanese, to feed livestock and increase the soil's fertility after the annual harvest season. It was also used to create the famous tatami mats, as well as other household items.
However, due to the advent of modern manufacturing, the straw is no longer needed to make goods, leaving farmers with tons of leftovers for which they have no use.
To find a way to make use of the remaining rice straw, the coastal region of Niigata Prefecture came up with the idea of the Wara Art Festival.
Since 2007, students from Tokyo's Musashino Art University have designed and installed incredible oversized sculptures of animals and mythical creatures, all made out of rice straw.
After a hiatus last year due to the COVID-19 pandemic, the festival is back this year, and will be held at the local Uwasekigata Park till October 31.
According to Hyperallergic, the idea for the festival came from Shingo Miyajima, a professor at the Department of Science and Design at Musashino.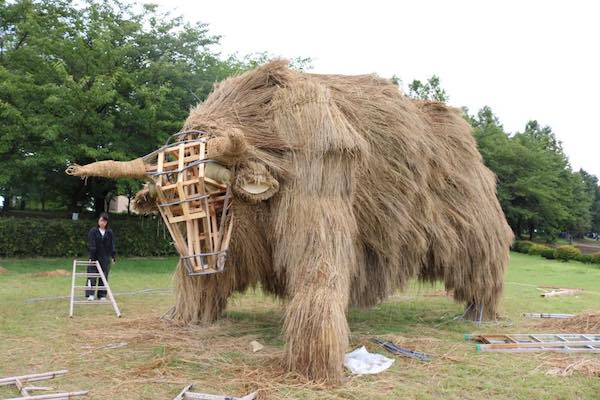 Image via Wara Art Festival
In 2006, he was asked to think of ways to get rid of the unused rice straw following harvest season. The professor suggested crafting mammoth-sized sculptures, supported by wooden frames, with the leftover straw.
Now a major tourist attraction in the region, some of the larger sculptures can reach up to 30 feet in height. There's also a ton of variety— from menacing gorillas and dragons to elephants and adorable mythical creatures from Japanese folklore, there's something for everyone.
Visitors to the festival are allowed to interact with the sculptures, with many taking cheeky photographs of them being "caught" in the animals' grasps. There's only one rule: no drones in the park.
Take a look at the fascinating rice straw sculptures below.
Posted by わらアート -WARA ART on Friday, August 27, 2021
Posted by わらアート -WARA ART on Friday, August 27, 2021
Posted by わらアート -WARA ART on Friday, August 27, 2021
わらアートまつり、はじまってます!
Posted by わらアート -WARA ART on Saturday, August 24, 2019
Posted by わらアート -WARA ART on Monday, October 9, 2017
Posted by わらアート -WARA ART on Monday, October 9, 2017
Posted by わらアート -WARA ART on Monday, October 9, 2017
[via Hyperallergic, images via Wara Art Festival]