[Click here to view the video in this article]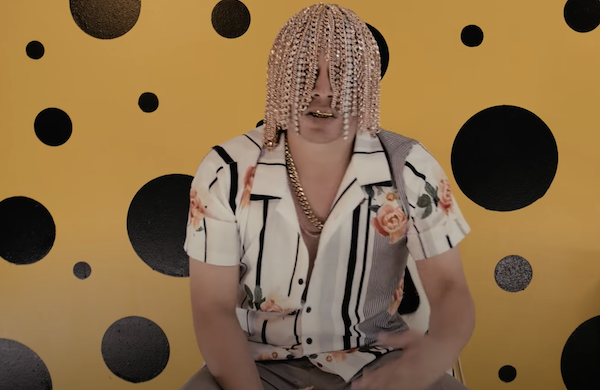 Video screenshot via Dan Sur
While we're pretty used to seeing celebrities sporting strange hair colors, a rapper named Dan Sur has taken things to a whole new level.
Instead of bleaching his mop or getting grills like most in the industry, he went a step further and had gold chains surgically implanted into his scalp, boasting that he's the only one on Earth with literal gold chains for hair.
According to Black Enterprise, Sur said the chains hang from hooks that had been implanted into his scalp, which are placed all over his head. He can then attach the chains as he wishes, passing them off as his very own locks.
"The truth is that I wanted to do something different because I see that everyone dyes their hair. I hope not everyone copies me now," Sur reportedly said. 

"This is my hair. Golden hair. The first rapper to have gold hair implanted in human history."
While the new look has certainly garnered attention for the rapper, health experts have cautioned against getting similar procedures.
Dr Frank Agullo, a plastic surgeon, told Yahoo Life that such surgeries "introduce an easy path for bacteria between the outside world and the internal body."
"In addition, I am concerned about the amount of weight these hooks are supporting. The weight or any accidental tug on a band of gold could cause the implant to dislodge and even fracture the skull," he said.
Thanks for the idea, Dan Sur, but I think most of us will stick to hair dye. Intrigued? Check out Sur's latest music video below.
[via Black Enterprise, cover image via Dan Sur]