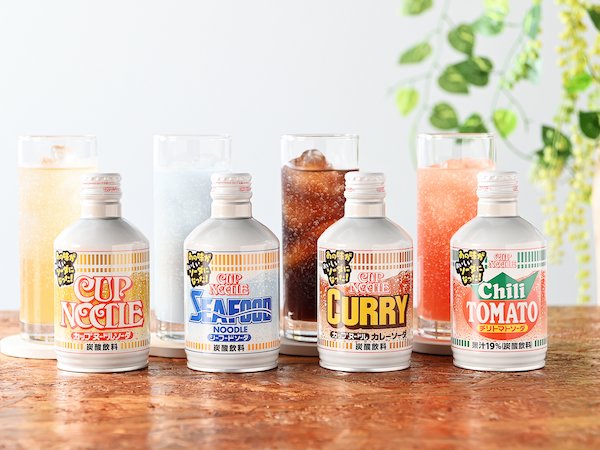 Image via Nissin
Remember when you were still growing and kept yourself full with the most random of food combinations? Well, you can once again ride on that high with ramen-flavored soda.
Nissin, inventor of instant ramen and parent company of Cup Noodles in America, is blending two junk food items that always go together, but are never literally together. The special limited-edition carbonated beverages are apparently the best idea the company came up with to celebrate the 50th anniversary since the debut of the world's first noodle cup. Both things are slurpable after all, so we'll give it that.
The range features four flavors, each inspired by an actual instant ramen offering, SoraNews24 reports. Apart from an original broth flavor infused into gingle ale-style soda, there's also a Cup Noodle Seafood flavor with a cream soda base, a Cup Noodle Curry cola, and a Cup Noodle Chili Tomato soda.
They're packed together in a complete 50th-anniversary set, which gives you four sodas, eight Cup Noodle soups, and eight snacks under the Cup Noodle brand. Unfortunately, or otherwise, the ¥2,998 (US$28) sets have all been snapped up.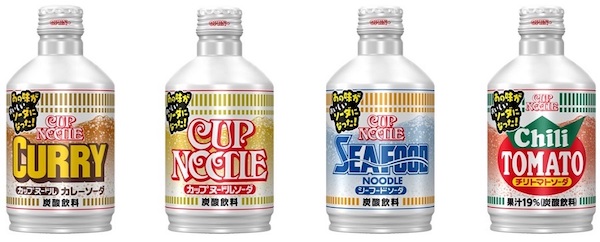 Image via Nissin
It's worth noting that this wouldn't be the last you'd see of ice-cold instant noodles. The official Cup Noodle Museum in Japan also serves ice cream meticulously designed to look like a pack of cup noodles.
[via CNET and SoraNews24, images via Nissin]