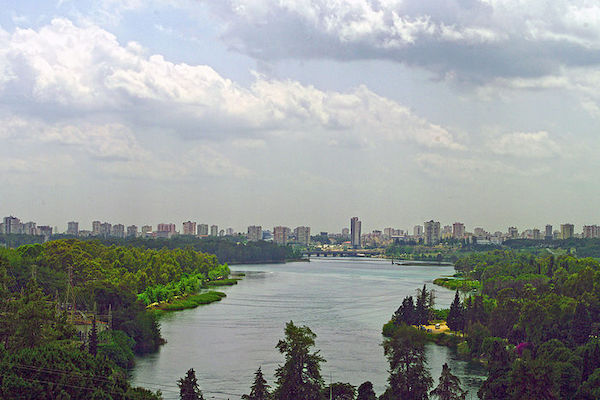 Adana, Turkey; location of the ancient city in the Seyhan Dam Lake. Image via Zeynel Cebeci / Wikimedia Commons (CC BY-SA 4.0)
An ancient Roman city founded by the Roman Emperor Tiberius has reemerged from underwater due to lowering water levels at the Seyhan Dam Lake in Adana, Turkey.
The city dates back to 58BC, and had flourished all the way up to 29AD. Although it wasn't inhabited by its usual large population at that point, the vicinity remained intact until it was flooded by the Seyhan Dam Lake on September 19, 1955. Today, knowledge of its existence escapes many, including some residents of Adana.
Fatih Erhan, a lecturer at the Osmaniye Korkut Ata University, told news agency Anadolu that this city was studied by an archaeologist by the name of Mahmut Akok and his team many years ago before it was fully flooded.
Surrounded by castle walls and marble columns, the city measured roughly 3,280 by 4,900 feet and boasted a large open-air theater. Only 10 days of excavations were able to take place during the short-lived expedition, as the water rose to cover the city before they could continue.
The ancient city partially reemerged, forming somewhat of an island on the lake. It was reported by the Daily Sabah that residents took this rare opportunity to graze their animals there.
Adana'daki Seyhan Baraj Gölü'nde suların çekilmesiyle Roma dönemine ait Augusta Antik Kenti'nin bir bölümü gün yüzüne çıktı https://t.co/eSkOdgLMG7 pic.twitter.com/MaUAGlJted
— ANADOLU AJANSI (@anadoluajansi) September 8, 2021
Drought was the cause for the significantly receding waters. As a local named Mustafa Tokalı pointed out, this occurs every year but was especially evident this summer; this is perhaps indicative of global warming's effects.
Another person by the name of Yahya Bebek told the Daily Sabah that the steps and theater are still visible in what emerged of the city, and that "every single stone there is bigger than a car."
He also stated that the elderly used to say that a dungeon lay under the city, too. It was also said that there were tombstones discovered there, which may lead to more fascinating finds. That is, if the water doesn't cover it back up again.
[via Daily Sabah, cover image via Zeynel Cebeci / Wikimedia Commons (CC BY-SA 4.0)]