[Click here to view the video in this article]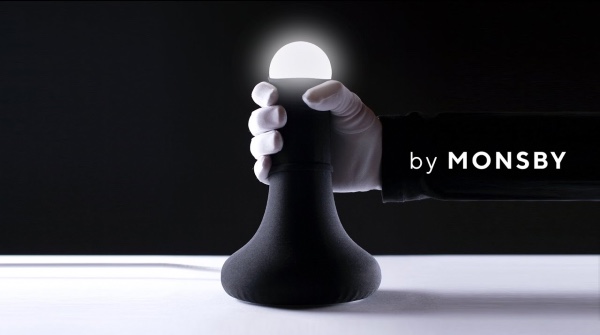 Image via Monsby
Most lighting needs a button flicked to be turned on, but for this cheeky-looking lamp, its g(low) spot is clear and bright. It's got a flexible outer skin just begging to be yanked, only to reveal a tip too beguiling to look away from.
Designed by London-based artist Monsby, the lamp mimicking an uncircumcised penis stands at nearly 10 inches in length and six inches in girth. To "turn it on," simply hold its fabric cover down a firm grip and move it down the shaft.
The designer says the lamp took on several names during its downtime, including "Phallamp" and "Lampenis." However, he eventually settled for the more subtle and graceful "Love in Light." He had dreamed of the project "for more than five years," and it took a year for it to finish.
"It is about love, light and life," the artist described. "The most meaningful and optimistic lamp ever." In other words, it's here for your pleasure.
For those needing a biology lesson, the lamp is crafted from fabric, as well as hard wood, aluminum and biodegradable plastics.
And while it's likely to attract a harem of interested buyers, only 50 of the Love in Light lamps are available, though their £3,500 (US$4,807) might leave some unsatisfied. If you're okay with something with less experience, there's also a prototype up for grabs.
Monsby has also created an NFT version of the lamp for hardcore crypto collectors, priced at 5.00 ETH (US$10,256). It's an endlessly looping GIF of the skin being shifted down, if that's your kind of thing.
[via Hyperallergic, images via Monsby]