[Click here to view the video in this article]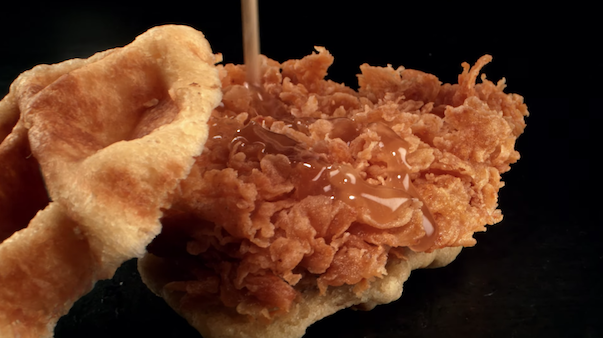 Video screenshot via Carl's Jr.
If a sinful meal makes you moan and break out in a sweat, you might want to follow Carl's Jr. on OnlyFans.
Say what? Yes, after years of controversial commercials bordering on sexual, the burger chain now has an advertising space to call home. The Hot & Hand-Breaded account aims to tempt taste buds with foodporn of burger buns being felt up and meats being drizzled in sauce.
The move is part of a collaboration between Carl's Jr., Hardee's, and VICE food section, Munchies. According to B&T, the advertisements are also being shared through Munchies' OnlyFans channel.
OnlyFans has grown to become a popular source of income for content creators, specifically sex workers. Subscribers pay monthly fees to access exclusive content by these creators, hence the site's name. Somewhere out there, someone's going to pay for a little (chicken) striptease, maybe.
[via B&T, cover image via Carl's Jr.]