[Click here to view the video in this article]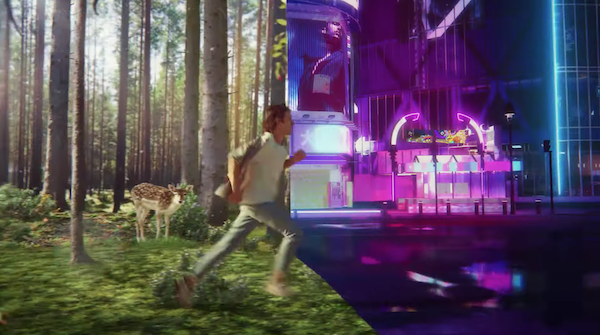 Video screenshot via Adobe Creative Cloud
Being surrounded by the same four walls all day could really put you in a rut. Adobe Premiere Pro encourages you to literally break through those boundaries and see things from a new perspective.
In an awe-inspiring campaign created by advertising agency 72andSunny, a man starts out on a typical, quiet evening in. However, he then opens his closet and discovers it is a portal to new alternative realms.
There are buildings that move and light up in rhythm with the background track, Queen's Don't Stop Me Now, and the man finds himself walking into streets with different color grades. He runs through a magical forest and into a cyberpunk-esque city and even the Moon.
This all looks like someone else's imagination, so Premiere Pro reminds viewers that they can make the experience their own by concluding the film with the text "Edited by: me" and "Directed by: me."
The high-energy spot, which is also the first-ever Adobe Premiere Pro commercial, is a follow-up to a Photoshop film that transformed a regular subway ride into one headed into the unknown. Produced by RESET, with VFX effects by Alt.VFX, the advertisement is being aired on television shows, and will be accompanied by Premiere Pro tutorials and videos as part of a broader campaign.
[via Animation World Network and Ad Age, video and cover image via Adobe Creative Cloud]