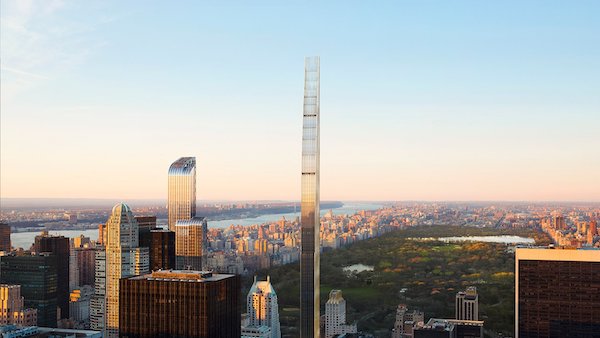 Image via JDS Development Group
In an interview with Bloomberg TV, Guggenheim Partners cofounder Todd Morley unveiled plans to build the world's largest non-fungible token (NFT) museum, which will be housed in one of the newest skyscrapers to shape the New York City skyline.
This brand-new digital art museum will be located at 111 West 57th Street, an 84-story building just four blocks away from the Museum of Modern Art. The new building will also feature the restoration and adaptation of the landmark Steinway Hall.
Designed by SHoP Architects and developed by JDS Development Group, the skyscraper is also poised to become the world's "skinniest tower," and will feature an Art Deco-inspired terra cotta design, with glass and bronze features.
The building will also be the home base of Morley's office for Overline, his company which works on communication technology, among different blockchain networks. Overline is expected to partner with the aforementioned NFT museum to curate up-and-coming NFT projects for display and sale.
"It's the perfect place, soft of a symbol of technology, to announce new technology. This one building will be able to – sort of like a ham radio operator – connect everybody in New York City to wireless trading, wireless crypto trading, wireless communication," said Morley.
[via Artnet News, cover image via JDS Development Group]