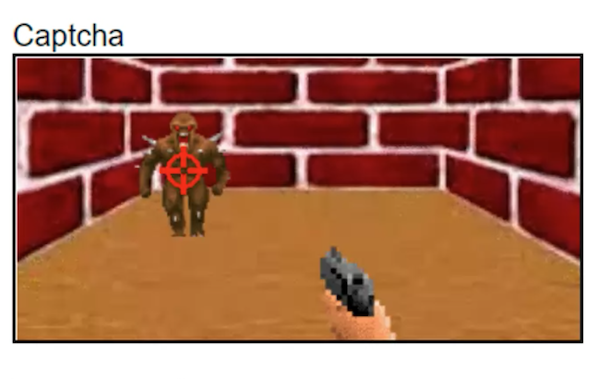 Image by Miquel Camps Orteza / GitHub via Product Hunt
Hands up if CAPTCHA tests have ever made you doubt your entitlement to humanity. The tendency to miss out on a bicycle wheel or the tip of a fire hydrant not only makes these verification procedures frustrating, but they can also be monotonous.
Hoping to incorporate an element of fun into CAPTCHA, Spanish web developer Miquel Camps Orteza has designed a test that makes you get through a simplified version of the classic DOOM video game to prove you are not a robot.
Rather than have you click on pictures or enter obscure alphanumerals in a textbox, the amusing Doom Captcha urges website visitors to point and shoot at four enemies before the timer ends. Also included are the original game's sound effects and music for a (rather loud) hit of nostalgia.
Where Doom Captcha wins at being fun, it lacks in the security compartment. CAPTCHA tests normally require backend verification, and because this variation is a simple animation, it "only validates from [the] user-side (client)," Orteza told PCMag. "There is no backend to a server to validate the user request." In fact, the developer said that people with coding knowledge can easily circumvent the test.
More than anything, Orteza is using Doom Captcha to express what he can bring to the table in future career opportunities. He's also invented a CAPTCHA that connects to your webcam and "forces you to do some squats."
Orteza has shared the HTML code for Doom Captcha so anyone can add it to their website. You can play the game or grab its code here.
[via Futurism and PC Mag, cover image by Miquel Camps Orteza / GitHub via Product Hunt]