[Click here to view the video in this article]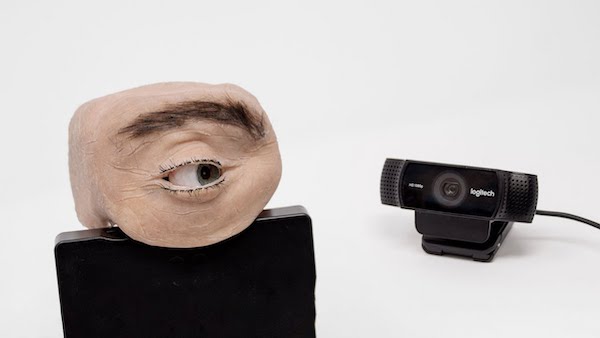 Image via Marc Teyssier (MIT License)
Designer and researcher Marc Teyssier has unveiled a new project: an anthropomorphic web camera that looks like a human eye.
Named the 'Eyecam', the idea behind Teyssier's latest project is something we all know, but hardly think about. Yes, it's a warning that devices everywhere are always watching you.
Not only does the webcam observe everything you do, but it can also recreate your facial expressions. By mimicking a user's eye and eyelid movements, it is able to mirror your expressions back at you.
And if that isn't scary enough, it "wakes up on its own," and has eyes on "every one of your steps."
The grotesque, lifelike quality of the flesh and eyeball makes this entire invention icky to look at. Worse still, according to Nerdist, Teyssier's signature electronic flesh contains a depth-sensitive touchpad that not only looks like skin, but can even sense when someone's touching it.
Thankfully, you won't be receiving the Eyecam as a gift anytime soon. Teyssier isn't putting up the camera for sale, but instead wants to drive home the point that we've become unaware of sensing devices monitoring us in daily life. The gadget is open source, under the MIT license, for anyone wishing to reiterate this ideology.
To be properly creeped out, watch the Eyecam in action below.
I did a creepy thing (again). The human eye webcam. #hci #robotics #diy #speculativedesign #design #CHI2021 More info and #opensource : https://t.co/F61Y9Ut4Da pic.twitter.com/SkDOcbY74p
— Marc Teyssier (@marcteyssier) April 7, 2021
[via Nerdist, video and cover image via Marc Teyssier (MIT license)]