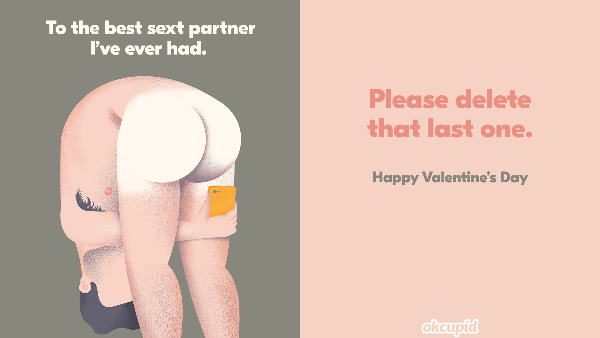 Images by Josh McKenna for OkCupid
We're lucky to live in a time when, even in situations where physical interactions can't exist, there are still umpteen ways to communicate with others. With online dating apps, you can get acquainted with someone, skip the awkward rejection process, and, in your own time and convenience, see if you'd like to develop a relationship further or keep things in the status quo. All this time, there's no need to meet up—you may want to physically see them, or you may not, and either way is socially acceptable.
21st-century relationships can't always be defined, so online dating app OkCupid has rolled out an array of virtual greeting cards that "aren't your traditional Valentine's Day cards" for "every type of situationship," whether it is governed by love or lust.
The quirky cards, created with the help of advertising agency Mekanism, showcases illustrations by BIPOC and LGBTQ+ artists for all kinds of sexual relations, including on-and-off connections and closed-door trysts between humans and vibrators. They're honest and naughty, the way real relationships should be.
OkCupid prides itself as the first dating app to feature diverse gender and orientation options, as well as stands as the only dating app with a #BlackLivesMatter badge, so minorities and non-cis-gendered users will be spoilt for choice with these artworks too.
Preview the cards below, and view them all or send them via this page.
Images by various artists for OkCupid
Images by various artists for OkCupid
Images by various artists for OkCupid
Images by various artists for OkCupid